Introducing RF Connect,

designed to connect patients to doctors!

Here's how it works.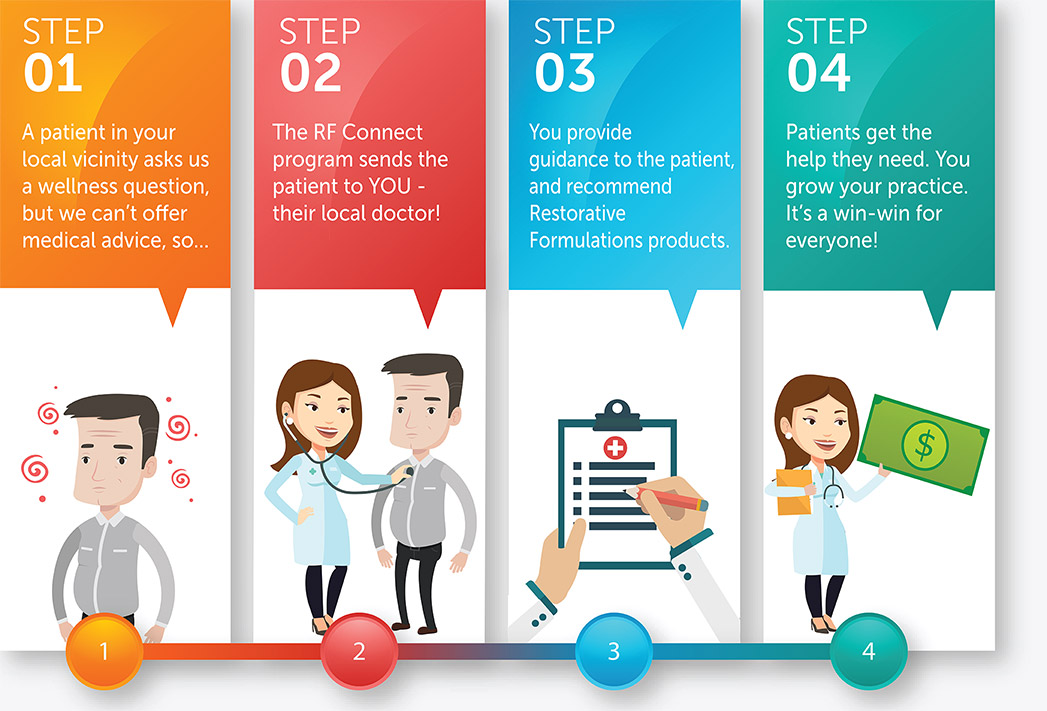 Want to learn more? lindsay@restorative.com or CLICK HERE for more details.
Welcome to the RF Connect program!
We created RF Connect because every year, tens of thousands of people contact us through various venues with questions about general wellness. Restorative Formulations is not able to answer their questions, but we still want to offer assistance. We created RF Connect to link these prospective patients to a wellness physician local to them who can provide consultations.
This customized service is designed not only to help prospective patients in need, but also to support physicians like you, and to help you grow your business.
When connecting patients to your practice, we ask that you consider recommending Restorative Formulations to these patients if you feel it is appropriate.
In order to participate in this program, you must pass T3 Certification training, or purchase a qualifying volume of Restorative Formulations supplements. If you would like to participate in this program, please contact lindsay@restorative.com. If you are already participating in this program you can use this link Manage My Provider listing under your account to update your contact information. We will notify you when we share your name with a patient.
If you have any questions or if you would like to opt out of this program, please let us know. Please email us at lindsay@restorative.com.
Best Regards,
Restorative Formulations Staff